When e-commerce giant Alibaba announced in late 2018 it would open a hotel in Hangzhou staffed by robots, the company declared they could be used to "streamline the operation of China's hospitality sector while improving the experience of guests".
But is that really the case?
Robots have been increasingly deployed in both the retail and F&B industry in recent years, performing duties like delivering food to restaurant diners, drinking water to hotel guests, speeding purchasing transactions and imparting information in a gimmicky way.
While robots are becoming more common in public spaces (stroll through Singapore's Changi airport, for example, and you'll find robots polishing floors) it remains to be seen if consumers are ready to embrace them: while automated checkouts and electronic passport controls at airports may be gaining acceptance, these are implementations of passive automation. Robots which are mobile, interactive and even have human characteristics like blinking eyes and moving 'lips' represent a whole new level of automation.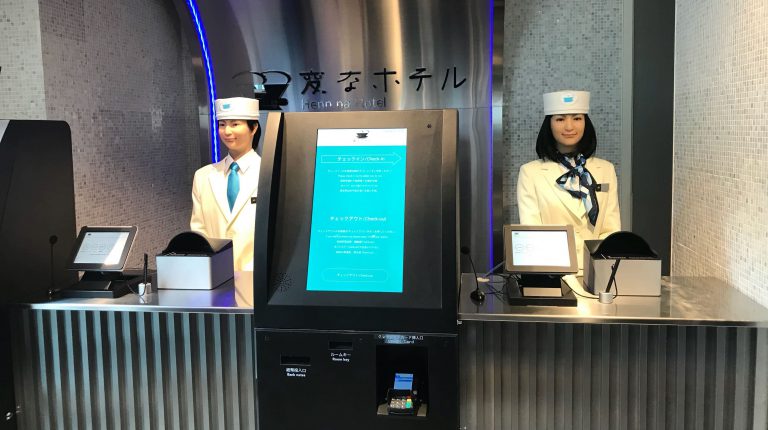 The world's first robot-run hotel (pictured above) opened in Japan in 2015 – and has subsequently pretty much failed. Henn-na Hotel in Nagasaki featured what the company describes as "actroid" androids – human-like bots that smile and deliver items. They greeted guests behind the reception counter… and could even serve coffee.
But Henn-na discovered that the lack of human interaction did not go down well with customers.
In January last year, the company put many of its robots into storage, citing frequent breakdowns, expensive maintenance and – worst of all – that they annoyed guests.
Real humans took over front-of-house operations, porterage and in-room assistance.
Tatsuya Fukuda, who supervised development of the chain said at the time it was pushing ahead with plans to develop a new, more efficient version generation of inhuman employees and was still committed to rolling out hotels across the country (initially it targeted 100).
"We are trying to evolve and improve every day, but we have been working with state-of-the-art equipment," he said.
Yotel's Yoshi and Yolanda
Hip hotel chain Yotel has also been experimenting with robots, although it's easy to define this as a gimmick rather than a business decision. At a capsule hotel in Singapore's Changi Airport, two robots named Yoshi and Yolanda stand ready in the lobby to deliver guests drinking water, apparently able to navigate corridors and elevators to find the room where the water was ordered.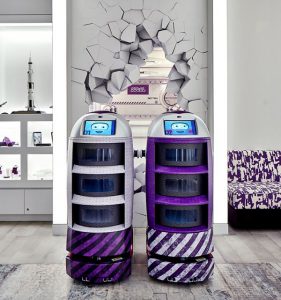 For Yotel, the robots complement its reputation for using technology such as self-check in, smartbeds which morph into sofas and a reception desk labelled 'mission control'.
Highlighting Diversity
Alibaba's move into robot-serviced hotels was intended to showcase the e-commerce giant's technological capacity and serve to highlight the diversity of its business scope. The company has claimed the hotel will be more efficient than manned properties within a comparable guest room-night price range.

The Alibaba FlyZoo-branded hotel features robotics, facial recognition, smart speakers, voice-activated lighting and room service – along with automated alerts for cleaning. Hotel guests will also be able to purchase any item featured in the rooms on Alibaba's website using Tmall's Genie, an artificial intelligence-run system which takes orders from guests. The robots are manufactured at Alibaba's AI Labs and help out with room service and laundry, and communicate directly with guests through voice prompts and gestures. It is worth noting the hotel still relies on humans to undertake the housekeeping…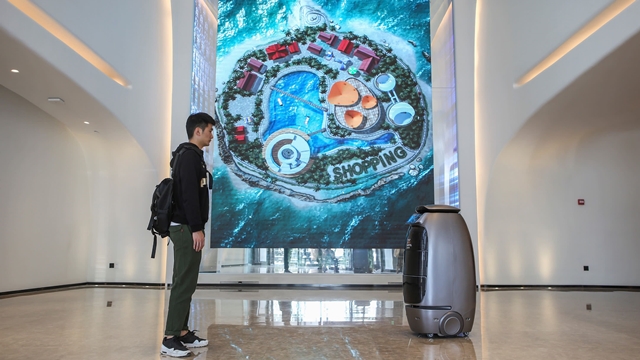 The advantage of robots over humans?
"It's all about the efficiency of the service and the consistency of service because the robots are not disturbed by human moods," said Andy Wang, Alibaba Future Hotel Management CEO, who supervised the project. "Sometimes, we say we are not in the mood, but the system and the robot will always be in the mood."
Aura Can Cook Eggs
Back in Singapore, Aura ("a Front-of-House Autonomous Service Delivery robot") is on duty at M Social hotel to deliver room service. For more than three years, Aura has navigated its way to guestrooms to deliver fresh towels, amenities and water.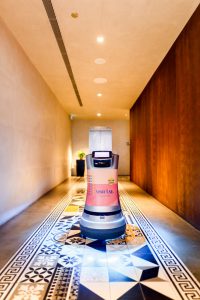 When Aura arrives outside a room, hotel guests receive a phone call and can take their delivery when the robot senses the door has been opened. Another robot, called Ausca, tested in the hotel's restaurant, can prepare freshly cooked eggs at the property's Beast and Butterflies restaurant.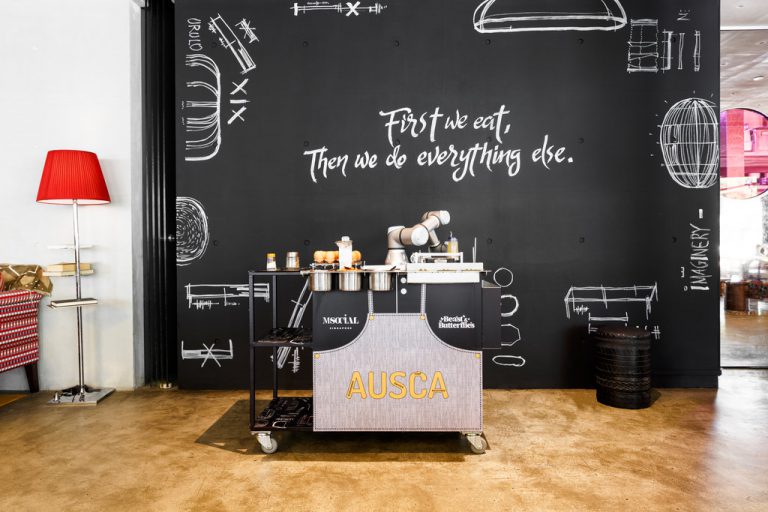 Two other Singapore hotels – Jen Orchardgateway and Jen Tanglin under the Shangri-La group – are also using robots to make room deliveries, finding the machines can help provide rapid service when staff are stretched during peak times. The robots can deliver things like towels within 15 minutes of the guest ordering them and can each carry a 4.5kg payload.
All About Experience
Kiyoshi Tsuchiya, director of CBRE's hotel segment in Japan, believes robots help properties deliver a unique customer experience. "Hotel operators are coming up with new types of facilities with unique characters and services to cater to guests' lifestyle choices," he said in an interview with Nikkei.
James Hacon, a hospitality-industry commentator told Design-Network in an article published last October titled "Rage against the machine: lessons from the world's first robot hotel", that some hoteliers were "turning to technology to give them a differentiating factor, creating a PR story".
"You only need to see videos coming out of Japan – where human-mimicking robots guide guests to rooms or deliver room service – to see how slow and clunky they are. I'd suggest they are actually detracting from the customer experience.
"Technology works best when it is tried, tested and seamless to the guest, reducing or removing a problem, or making life easier, not slower. App-based check-in and digital checkout are great examples of time-saving initiatives. Device-driven room service delivery could also catch on, but it doesn't need to be in the form of a robot with eyes."
Hotels should not entirely rule out artificial intelligence (AI) for now. There are some success stories such as Yotel and M Social where droids make deliveries – and are certainly a talking point among guests.
But the consensus for now is that in customer-facing activities where guests require a fulfilling customer-service experience, humans have a much better chance of satisfying clients than robots.